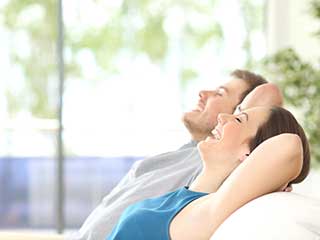 Keep Your Family Healthy
The best way to ensure the quality of your home's air is with regular services such as air duct cleanings! There are many contributors to low air quality such as smoking and pet dander, but these factors are worsened if they remain trapped in dirty ducts to continue to pollute the air. This can result in bad allergies indoors, troubles with breathing disorders like asthma, and even fatigue in the healthiest of people. Pest waste in ducts may also contribute to the issue if your duct goes untouched for too long. We can take care of it all!
We'll Get Your Ducts Clear
Our technicians use only the finest tools available to get remove dirt, dust, and other materials that have built up over the years. The air that's brought in from outside brings these substances in with it, and they get trapped inside. This allows them to continuously contaminate the air as it passes through to your home. That is why periodic cleaning can make such a difference for improving the air quality!
Sanitation Helps With Unwanted Pests
Once you've removed the pests from your ducts, the problem doesn't end! They've most likely left behind waste that can have a huge negative impact on the air quality. Insect waste acts as an allergen and even worse is rodent waste, which can carry disease. The best way to ensure both problems are gone for good is with a professional sanitation. We use special equipment to get your ducts free of any bacteria or otherwise that was left behind.
Part Replacements
If your air duct or vent has been damaged somehow, we can take care of that too! Our experts can replace a vent, or a piece of duct that's been harmed or come apart.
Take The First Step Now
Contact Air Duct Cleaning La Mesa today and schedule your service to improve the air quality in your home!
You can also count on us for: