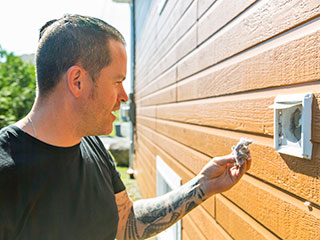 Most homeowners appreciate the importance of cleaning out their dryer vent regularly. Accumulated lint can cause hot air to back up in your dryer unit causing temperatures to soar, clothes to come out wet and damaged, and even posing a fire hazard. However, few appreciate exactly how regularly they should have their dryer vent cleaned. Because it's different for every home around the La Mesa area, it's vital to understand what factors you'll need to take into account. Cleaning the dryer vent helps the machine work better, and also removes the fire hazard created by a blocked exhaust and flammable lint. For laundromats, with many dryers, vents need to get cleaned far more often, as they see more traffic every year.
How Old Is Your Dryer?
Let's start with the first link in the chain, the dryer itself. Modern appliances are more effective at catching lint than old ones, which tend to allow more lint to escape. More lint means faster blockages, so if you have an older appliance you'll need to consider cleaning the vent more often. Older dryers tend to struggle to work fast as they used to before. They don't need a blocked vent to restrict airflow and hinder their performance even more. Therefore, the older the dryer, the more you should get the vent cleaned and unclogged.
How Long Is Your Dryer Vent?
Dryers used to be exclusively located in basements, where they would vent almost directly to the outside. However more modern units are often installed on the ground floor of a property, which means that vents will need to be longer. The longer the dryer vent is for your La Mesa property, the more likely it is that lint won't reach the end of it; air pressure will rapidly dissipate, and lint won't be pushed out properly. This results in various accumulations of lint inside the dryer vents. Those restrict airflow and create small blockages that force the dryer to work harder. If you start getting wet clothes out of the dryer, you should get the vent cleaned.
Is the Vent Straight?
Many dryers are installed in corners so they're not in the way. This is great for indoor convenience, but it often means a bend needs to be put in the dryer exhaust vent. If this is the case, it creates a natural focal point for lint to accumulate, and you'll start to see debris building up here much more quickly than on a straight dryer vent. It's good to every so often have the dryer vent cleaned to remove such collections to keep them from becoming clogs. The dryer vent of your La Mesa home can become a fire hazard if you don't clean it properly. These small blockages of lint can catch fire and cause real havoc.
When Will My La Mesa Dryer Vent Need Cleaning?
Generally speaking, a dryer vent will need to be cleared once every two years. However, if your vent falls into any of the above categories you may need more regular attention. Do not be tempted to neglect this important aspect of home maintenance. Clogged dryer vents contribute to more than 15,000 home fires every year. So make sure to give the proper care and ensure you don't put your property at risk. Call the team at Air Duct Cleaning La Mesa for help with any part of your HVAC system. Our professional dryer vent cleaning services offer you peace of mind and improved dryer efficiency at the best prices around!