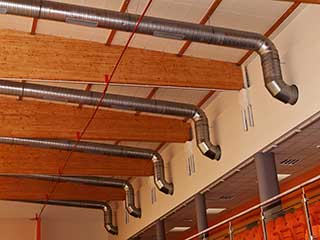 What's The Point Of Duct Cleaning?
You want to maximize work output and get the very most of your employees while they're there, so make sure poor air quality isn't slowing them down!
While your air ducts are bringing in air to be used for air conditioning, heating, and ventilation, they're also drawing in dust and other materials. These get stuck inside, and buildup over time to the point that mold and bacteria can grow. The air that passes through is then contaminated by all this, and spread throughout your workplace.
How Do Dirty Ducts Affect Work?
Employees with breathing disorders, or who are simply older, will be most heavily hit by poor air quality. Their breathing troubles will worsen, to the point they may have to call in sick entirely. Allergy sufferers will also have a difficult time trying to focus when their eyes are blurred, and their noses irritated. Even those with no real health issues will still be negatively affected, as the polluted air will cause fatigue and make them slow down.
As for energy spending, the substances clogging the air ducts make it tougher for the air to get through. This means more energy must be used to properly distribute enough air, which is how your energy costs spike.
What can be done about this? A professional cleaning!
Let Us Get To Work!
Our experts are ready to come out as soon as possible and take care of your ducts quickly and thoroughly! Distractions to your workers should be minimal, and we'll work hard to make sure this is the case. We use the best equipment available to dislodge the dirt and immediately vacuum it all up safely. This way, you won't need to worry about any cross-contamination that will make the air quality any worse.
Don't Let Productivity Suffer!
Call Air Duct Cleaning La Mesa now, and allow us to assist you today!