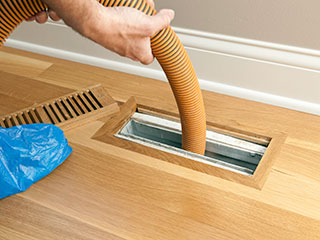 The air vents you keep in your home do a vital job. They keep warm moist air from condensing onto your walls and allow the vast majority of moisture to escape your rooms. Ventilation is a crucial part of the house than many homeowners easily forget to consider. This can mean this important device is often ignored for years without being cleaned or having a proper professional maintenance check. If keeping a hygienic and unpolluted home is at the top of your agenda, you should consider having your air vents cleaned with the latest highly effective professional solutions. We can also repair and replace filters and other key parts should you need them.
Leaking is a Serious Warning Sign
If you notice your vent or air duct leaking, this could be an indication that a severe buildup of debris and bacteria has formed within the inner cavities of the system. The leak is caused by a pool of water sitting within the surfaces of the unit. This water has collected through the condensation of steam and moisture in the air that has been taken into the system. If there is a blockage of mold in an air duct, this moisture will have nowhere to escape and so build up within the walls of unit. If left long enough, pools will form and the leak occurs. In these cases we clean air vents and ducts with strong solutions that are designed to address such tough collections of thick mold and debris. This is the best way to clean ventilation ducts and HVAC units sufficiently to ensure the issue does not return quickly.
Mold Can Damage Walls and Tiles
If left to spread and worsen, mold can creep into surrounding surfaces. It is common for vents and HVAC units to be surrounded by tiles and plain painted walls. Mold can get into these surfaces and cause terrible damage. Tiles can become weakened and fall out of place and the stains created by such infestations can cut through paint and become increasingly visible over relatively short periods of time.
Expert Air Vent Cleaning Services
Call us as soon as you notice any of the above mentioned symptoms. We can come and assess the situation before presenting the solutions that will bring the best results for your needs and circumstances.